Montag 1 Januar 2018
Open Meeting 2018
Date: March 8, 2018 19:00.
Speakers: H.-R. Hodel (Swiss ambassador), K. Reber (director of the School), T. Krapf (Scientific Secretary) and D. Knoepfler (Collège de France).
Venue: National Hellenic Research Foundation, 48 Vas. Constantinou, Athens.
The fieldwork of the Swiss School in 2017
Karl Reber, director of the Swiss School of Archaeology in Greece, will present the School's fieldwork in 2017:
Eretria (Euboea): excavations in the Gymnasium
Amarynthos (Euboea): excavations in the Artemision
Mazi (Attica): survey in the Mazi plain
Kiladha (Argolid): underwater survey near Franchthi cave
The discovery of the Sanctuary of Artemis Amarysia in Amarynthos
Ten years have passed since the excavations started at the foot of Paleoekklisies hill, near Amarynthos (Euboea), where a large portico was brought to light during successive campaigns. For the first time, conclusive evidence was obtained in 2017 for the identification of this monumental complex as belonging to the sanctuary of Artemis Amarysia: a series of terracotta tiles stamped with the name of the goddess from the roof of a building dedicated to her, as well as several stone inscriptions bearing the name of the triad, Artemis, Apollo and Leto.
These groundbreaking discoveries will be presented at the annual conference of the Swiss School of Archaeology in Greece by three speakers:
Karl Reber (director), The discovery of the Sanctuary of Artemis Amarysia
Tobias Krapf (scientific secretary), 10 years of excavations at Amarynthos (2007–2017)
Denis Knoepfler (Collège de France), The inscriptions from the Artemision and Eretria's fate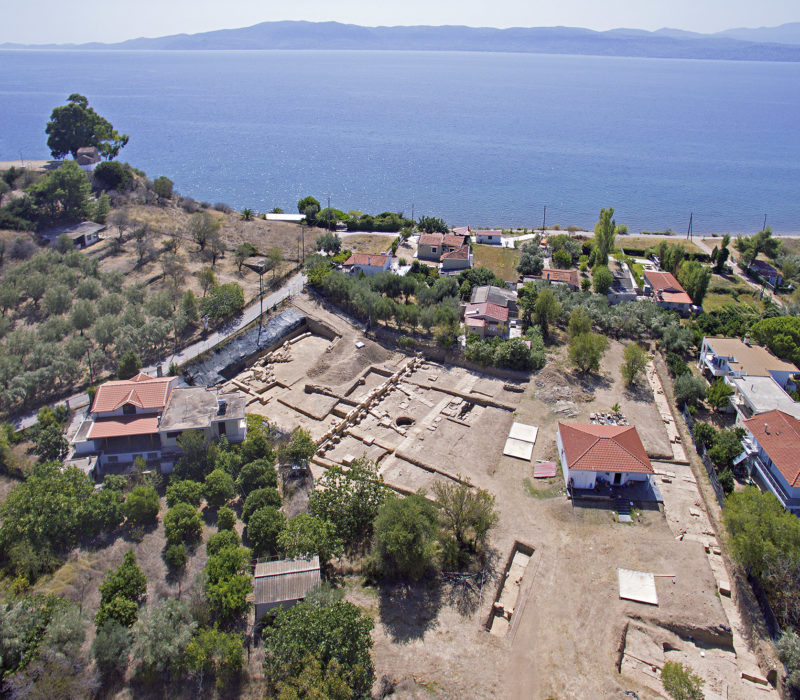 Das Artemision von Amarynthos
Research in Amarynthos