Eretria XVII
Béatrice Blandin, Early Iron Age funerary practices in Eretria. Space of the living, dwelling of the dead (in French)
The Geometric period (900-700 BC) is a crucial period in Greek history in the course of which a new form of political organisation took shape, that of the poleis. Very few sites in Greece can contribute to a better understanding of these processes. Eretria is one of those where excavations have brought to light a great variety of remains and finds from dwellings space, workshops, sacred area as well as cemeteries, making it possible to apprehend the formation of the city from different angles of research.
This twofold study is based on an exhaustive documentation collected here for the first time. It investigates the space of the living as well as the dwellings of the dead.
The funerary rituals, the architecture of the tombs, the offerings as well as the choice of the burial place are the keys to understanding the organisation and evolution of the society of the living. The funerary material, which is generally better preserved than the one found in domestic contexts, informs us about the local productions as well as the relationships of the community with its close and remote neighbours. Anthropological analyses provide unique information about the structure of the population (age, sex, and health).
2007, 2 vols. in French with summary in English, German and Greek, paperback, 22 x 30 cm, numerous illustrations, b/w. Infolio editions, Gollion.
ISBN 978-2-88474-406-5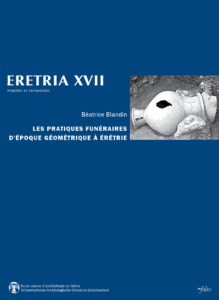 Open access Eretria XVII, vol. 1
Open access Eretria XVII, vol. 2
Sommaire XVII
Abstract XVII
Histara 2009
Archaiognosia 2012
Babesh 2010