Friday 18 February 2022
Open Meeting 2022
Date: March 10, 2022 7:00 PM (Athens).
Link: https://unil.zoom.us/j/97799042611 (no pre-registration required)
Speakers: Pascal Couchepin (former President of the Swiss Confederation, President of the Board of Trustees of the Swiss School), SE Olaf Kjelsen (Swiss Ambassador in Greece), Sylvian Fachard (Director of the Swiss School), Tobias Krapf (Scientific Secretary of the Swiss School) & Tamara Saggini (Amarynthos Excavation Manager).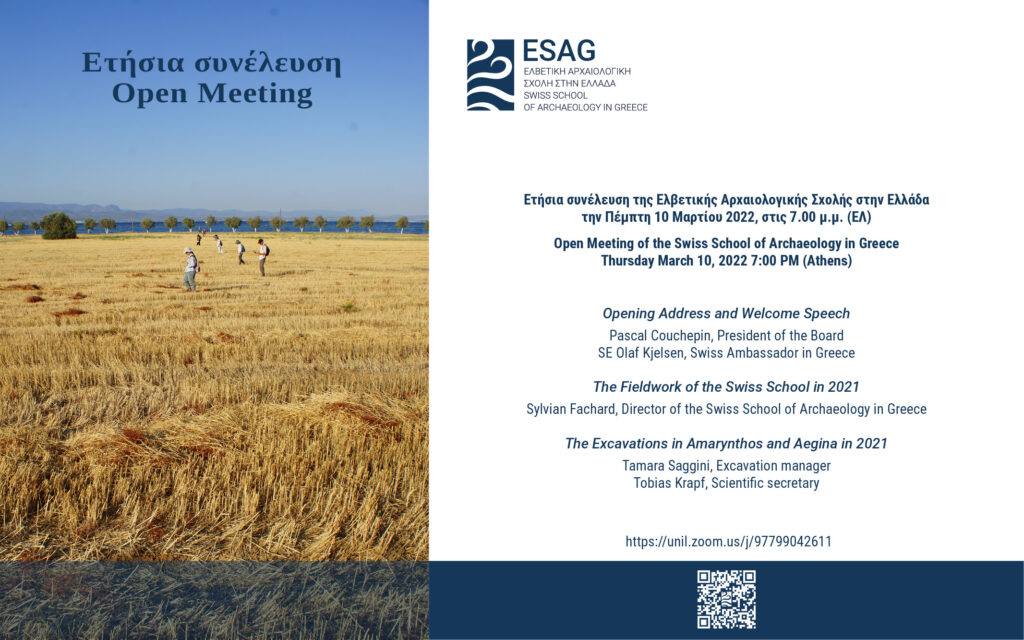 The fieldwork of the Swiss School in 2021
Sylvian Fachard, director of the Swiss School of Archaeology in Greece, will present the School's fieldwork in 2021 (Amarynthos survey, "Dragon houses" in Southern Euboea, Antikythera shipwreck).
Tamara Saggini, excavation manager, and Tobias Krapf, scientific secretary at Athens, will present the recent excavations in Amarynthos and Aegina in 2021.
Fieldwork 2021