Wednesday 6 November 2019
New release: ERETRIA XXIII
The ERETRIA series
Since 1964, Swiss archaeologists excavate and study ancient Eretria (Euboea island). The ERETRIA series present the final results of the main excavations and discoveries of the Swiss School of Archaeology in Greece.
ERETRIA series homepage
ERETRIA XXIII (2019)
Kristine Gex
IM ZENTRUM DER STADT
Klassische und hellenistische Funde und Befunde aus dem Grundstück Bouratza (Ausgrabung 1979–1981)
The Bouratza plot lies in the center of Eretria, to the northeast of the ancient agora. From 1979 to 1981, it was the site of an excavation by the Swiss School of Archaeology in Greece. This volume describes the structures and finds of the Classical and Hellenistic period discovered there.
The most prominent building consisted of a row of rooms, among which an andron with a pebble mosaic floor is especially remarkable. The construction dates to the second half of the 4th c. B.C.; its function was no doubt public or semi-public. It was renovated and extended early in the 3rd c. B.C. How long it remained in use is impossible to say, but the site as a whole appears to have been abandoned in the 1st c. B.C. at the latest.
The greater part of the volume is devoted to catalogs of the finds. These cover a chronological span from ca 500 to the first half of the 1st c. B.C., with a pronounced accent on the period from the end of the 5th to the early 3rd c. B.C. Pottery has been given particular consideration (fine ware, household ware, cooking ware, transport amphorae); other finds dicussed are lamps, terracottas, utensils for textile working, coins, architectural fragments, small finds and animal bones. Specialists of the Swiss Archaeological School collaborated in the study of certain categories and contexts: Guy Ackermann, Solange Bernstein, Monika Brunner, Claudia Gamma, Angelos Gkotsinas, Mathias Glaus, Pauline Maillard, Caterina Martini and Marek Palaczyk.
2019, 336 pages, 1 vol. in German and French with summaries in French, English and Greek, Paperback, 22x30cm, numerous illustrations and plans. Infolio editions, Gollion.
ISBN 978-2-88474-412-6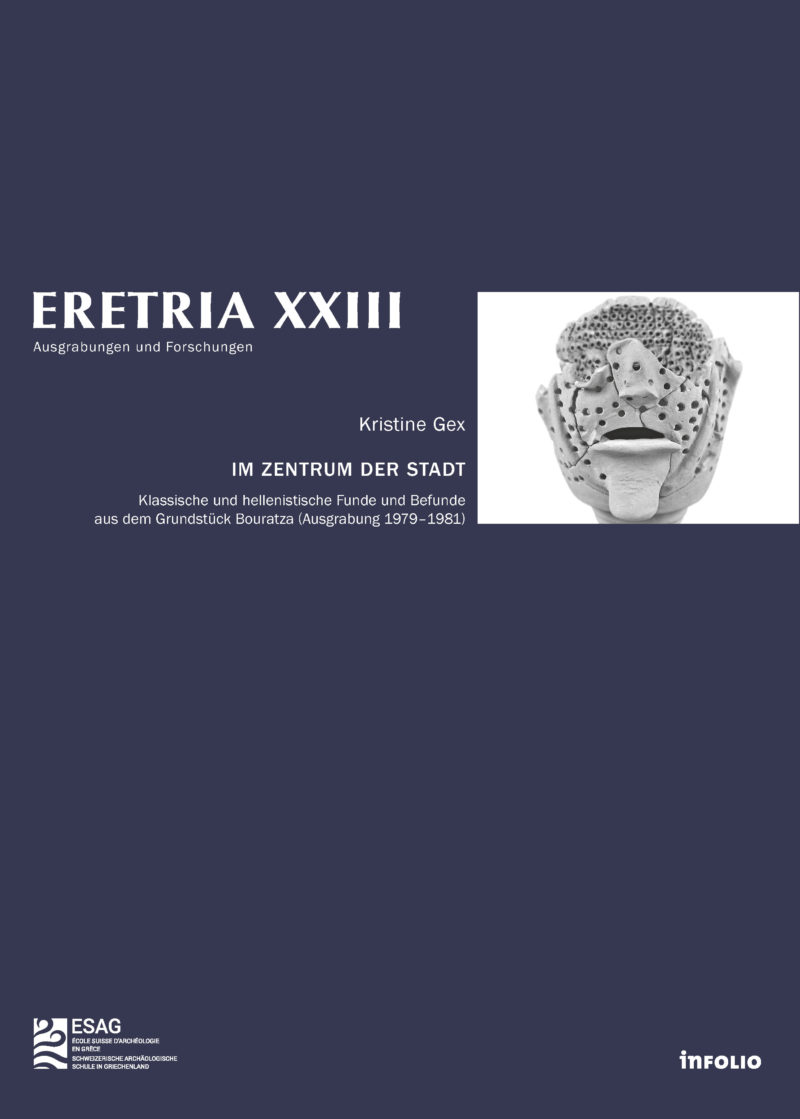 About the author
Kristine Gex has worked with the Swiss School of Archaeology in Greece since her student days; she wrote her PhD thesis on red-figure pottery from Eretria (Eretria IX). Currently she is a Research Associate at the University of Lausanne and has published studies on Classical and Archaic pottery.
Kristine.Gex@unil.ch